Today the team reported a tough day after encountering 2 meter sastrugi (that's big!). When they diverted to avoid the sastrugi they encountered blue ice which is very tricky to travel on. To make matters worse the sunny day that they woke up to changed to overcast with very flat light.
Flat light, as we've mentioned before in the blog, makes skiing very exhausting and arduous. You simply cannot see even the slightest variations in the terrain. You might be skiing over large sastrugi and you don't even know it until all of a sudden you are on your butt and your sled has tipped over. There is no doubt there will be some deep sleeping going on tonight. Given the rugged conditions they are probably very pleased with their 21 kilometers. They ended the day at location S 85.46.700, W87.27.845. The temperature was -20C.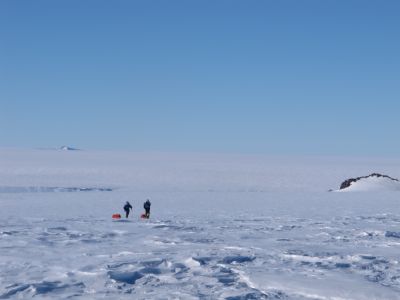 Almost at the top of the climb yesterday.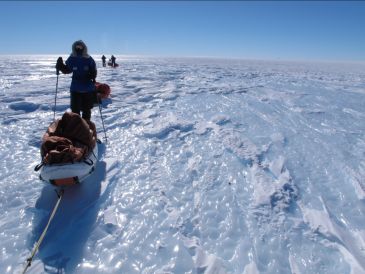 For those of you interested in records, the South Pole set a new one on Christmas day. From Wunderground.com "On Christmas Day, December 25th, the temperature at the Amundsen-Scott South Pole site soared to an all-time record high of 9.9°F (-12.3°C) eclipsing the former record of 7.5°F (-13.6°C) set on December 27, 1978. The low temperature on December 25th was a mild (relatively!) 4°F (-15.5°C). Records at the site began in January 1957. Its elevation is 9,301 feet (2,835 meters)."
Bob leaves another of his wonderful audio updates (I learn something new each time I listen to him!) so make sure to check it out, and visit again tomorrow for another update from the team!