January 8th was a difficult day for the team. After a frustrating struggle with a respiratory/altitude problem Dennis was evacuated to Union Glacier basecamp, and Oskar accompanied him. There are many emotions that go along with an evacuation including disappointment, sadness and frustration. But it's important to keep things in perspective and the health and safety of each team member is, of course, the greatest priority. Even though Dennis and Oskar are no longer skiing with BB, Bob & Lisa, there is no doubt that after 45 days together they are still very much a team.
The plane that picked up Dennis and Oskar was on its way to the South Pole and they were able to join the group for the visit at the Pole. Upon return to Union Glacier, which is much lower in elevation than the recent position of the team, Dennis started to feel better. He is in the good hands of the basecamp doctor and he will be able to get some long overdue and much deserved rest.
After Dennis and Oskar were picked up BB, Bob and Lisa packed up and continued on their way. It was late in their day but they skied a few hours making almost 10 kilometers.
Bob phoned in an update today, about yesterday. He shares his feelings about Dennis' and Oskar's departure and what he will miss the most as he continues skiing without them alongside.
Please listen to Bob's warm audio blog on http://fullsouthpoleski2012.blogspot.com/
Final Resupply
Today the team traveled the short distance to their final resupply at S 87.23.825, W 83.28.792. There they came across the black flag that marks the depot and the remaining food for the expedition including a celebratory dinner, which Oskar and BB cooked up for all.
Lisa and Oskar would like to share that their mother's birthday is January 8. They send their best wishes and lots of love from Antarctica. They took a couple of photos as a present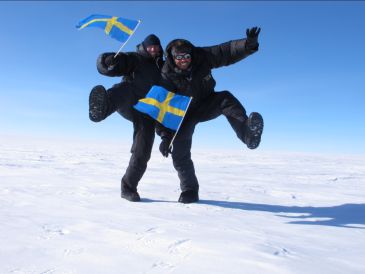 Two crazy Swedes singing Happy Birthday to their mother!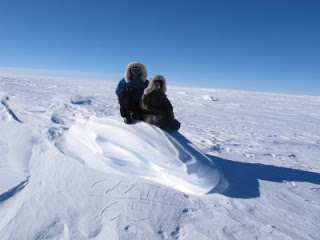 Lisa and Oskar. "Love to Momma Strom!"
And the photo below of the team was taken a couple nights ago, when they still had warmer weather and could eat outside. This photo was simply titled "Dinner".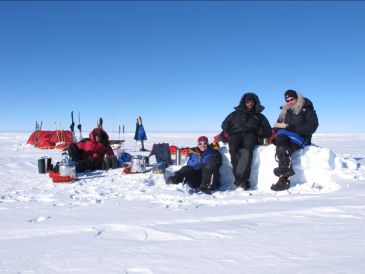 A good looking team. They appear so warm and relaxed!
Listen to Dennis' audio update and check back again tomorrow for another update.